Broad spectrum disinfectant
Surface disinfectant for the agricultural sector
Surface disinfectant containing formaldehyde and glutaraldehyde.
Advisal® 200 is a broad spectrum disinfectant and works against bacteria, fungi and viruses. Due to the high content of active ingredients and the combination of the active ingredients, this product is particularly suitable for intensive animal husbandry. The synergistic ingredients ensure reliable disinfection. Surfaces can be disinfected gently with Advisal® 200 .
Safe disinfection
Effective
Versatile use
Immediate effect
Active ingredients: formaldehyde, glutaraldehyde, QAV's
APPLICATION:
The disinfectant solution can be applied to the surfaces using a high-pressure cleaner, foam device, spray device or watering can. For this purpose, the application rate of the working solution should be 0.4 L / m² (dripping wet).
ACTIVE SUBSTANCES:
Glutaraldehyde
formaldehyde
Quaternary ammonium compound
SCOPE OF APPLICATION:
Poultry / pig farms
Slaughterhouses
Small animal husbandry
Cattle stables
Veterinary institutes etc.
WAY OF USE: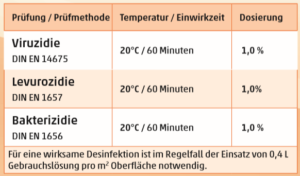 FOR ANIMAL USE ONLY
STORAGE:
Store in a dry and cool place, protected from light.
Do not store above 30℃.
SHELF LIFE:
PRESENTATION:
5 &10 kg canister
220 kg barrel

BAuA no .: N – 63753