Broad Spectrum Disinfectant
Surface disinfectant – free of formaldehyde
Surface disinfectant with pronounced long-term and deep effects. Advisal® 400 was designed for use in low temperature ranges. Advisal® 400 does not destroy surfaces such as metals and plastics. Advisal® 400 is characterized by its high cost-effectiveness on the one hand and on the other hand its good effectiveness against bacteria, fungi and viruses.
Free of formaldehyde
Effective
High profitability
Gentle on materials
Fully effective even at low temperatures
Glutaraldehyde
Quaternary ammonium compound
SCOPE OF APPLICATION:
Chicken / turkey fattening
Laying hens
Pig fattening
Cattle farming
WAY OF USE: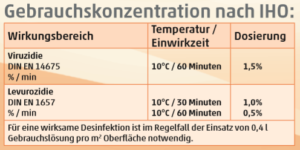 STORAGE:
Store in a dry and cool place, protected from light.
Do not store above 30℃.
SHELF LIFE:
PRESENTATION:
5 &10 kg canister
220 kg barrel

BAuA no .: N – 59854