Oral Solution Supplementary Feed Additive
Natural Antipyretic
Anti-inflammatory and Analgesic

Maintain feed consumption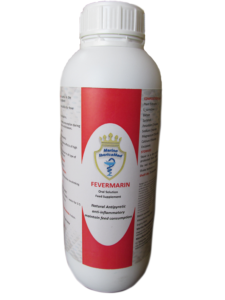 COMPOSITION :
L_carnitine
Betain
Sorbitol
Potassium Chloride
Sodium Chloride
Magnesium Chloride
Calcium Chloride
Plant Extracts
Excipient
Fevermarin is useful in the following conditions:
specific formulation for fever control.
heat stress situation.
maintain feed consumption during stress situation and diseases.
Antipyretic.
anti-inflammatory.
Reduce negative effects of high temperature.
Reduce hay fever in all type of disease with fever.
TARGET SPECIES:
ADMINISTRATION :
For oral Administration via drinking water.
DOSAGE:
Via Drinking water:
500 -1000 ml per 1000 lit of drinking water.
WITHDRAWAL PERIOD: 0 days.
FOR ANIMAL USE ONLY
STORAGE:
Store in a dry and cool place, protected from light.
Do not store above 30℃.
Shake before use.
SHELF LIFE: 24 months
PRESENTATION: 1 lit