MYCOTOXIN BINDER to be added to feed
New and powerful concept of mycotoxin binder
Synergic action of clays , yeast cell wall , plant extract , chacroal and sillica
Effective both at low and high pH levels
Protect liver and Stimulates gut health
High Spectrum adsorption and deactivate of mycotoxins
Inactivate toxins like Aflatoxin B1, Ochratoxin- A, Zearalenon , T2
Has a direct effect on the immune system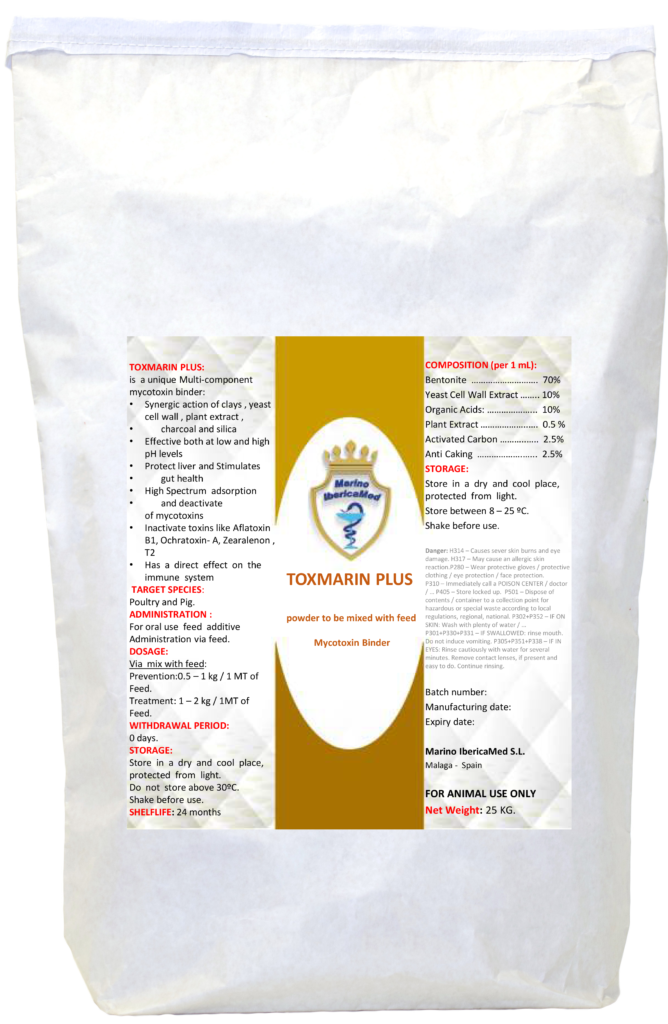 COMPOSITION:
 Bentonite
 Yeast Cell Wall Extract
 Organic Acids
 Silymarin
Activated Carbon ( Charcoal )
INDICATION:
Mycotoxin adsorbent with broad spectrum of activity
Stimulates the immune system
Detoxify liver
Broad spectrum of activity
Absorb all of toxins
Improve and Stimulates Gut Health and FCR
Improves feed hygiene and Intestinal sterilization
Increases digestibility of nutrients
TARGET SPECIES:
ADMINISTRATION:
For oral Administration via feed.
DOSAGE:
To be mixed with feed:
General: 0.5 – 2 kg per MT of feed
Prevention: 0.5 – 1 kg per MT of feed.
Treatment and Sever Contamination: 1 – 2 kg per MT of feed.
WITHDRAWAL PERIOD: 0 days.
FOR ANIMAL USE ONLY
STORAGE:
Store in a dry and cool place, protected from light.
Do not store above 30℃.
SHELF LIFE: 24 months
PRESENTATION: 25 kg bags