Oral Solution acidifier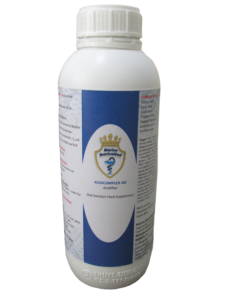 COMPOSITION :
Formic Acid
Lactic Acid
Acetic Acid
Propionic Acid
Copper Sulfate
Colloidal silver
Purified water
Acidcomplex Ag is an acidifier.
High Level Organic Acids Acidifier
Water purification
Prevent and removal of Biofilm
Improve PH of intestine
Controlling Salmonella , E_coli , ….

Improve Gut Health and FCR
TARGET SPECIES:
ADMINISTRATION:
For oral Administration via drinking water.
DOSAGE:
Via Drinking water:
500 – 1000 ml per 1000 lit of drinking water.
WITHDRAWAL PERIOD: 0 days.
FOR ANIMAL USE ONLY
STORAGE:
Store in a dry and cool place, protected from light.
Do not store above 30℃.
SHELF LIFE: 24 months
PRESENTATION: 1 & 5 lit