Liquid Supplementary Feed Additive to be added to feed
Is a unique short-chain fatty acid
Improve Gut Health and FCR
Intestinal energy supply
Intestinal sterilization
provide energy for intestinal villi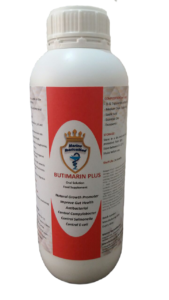 COMPOSITION:
Tributyrin(Triglycerides of Butyric Acid) 85%
Tributimarin L improves digestibility of nutrients and enhances poultry and swine performance, optimizes intestinal microflora, improves epithelial integrity.
Tributimarin L is useful in the following conditions:
Increase feed intake
Antibacterial,Antiviral.
Control salmonella, e_coli and Campylobacter
Improve feed conversion rate.
Increase microvilli length and villus growth.
Higher live weight at slaughtering.
Decrease mortality
Improve nutrient absorption and good intestinal health.
Provide 70% of energy for colon cells growth
Decrease necrotic enteritis
Improve secretion of digestive juices
TARGET SPECIES:
ADMINISTRATION :
For oral Administration via feed.
DOSAGE:
Via spray on feed:
200 – 1000 ml per 1 MT of feed.
WITHDRAWAL PERIOD: 0 days.
FOR ANIMAL USE ONLY
STORAGE:
Store in a dry and cool place, protected from light.
Do not store above 30℃.
SHELF LIFE: 24 months
PRESENTATION: 1 lit and 5 lit.