Oral Solution Supplementary Feed Additive
Antibacterial
Control and treatment necrotic enteritis
Control Campylobacter and Salmonella
Control E-coli and Clostridium perfringens
Natural Growth Promoter, Improve Gut Health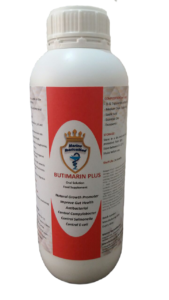 COMPOSITION:
 Tributyrin
 Lauric Acid
 Essential oils
• Food Emulsifier & Excipients
Butimarin Plus improves digestibility of nutrients and enhances poultry and swine performance, optimizes intestinal microflora, improves epithelial integrity.
Butimarin Plus is useful in the following conditions:
Reduce PH of Gastrointestinal tract.
Antibacterial,Antiviral.
Control salmonella, e_coli and Campylobacter
Improve feed conversion rate.
Increase microvilli length.
Higher live weight at slaughtering.
Anti-inflammatory
Prevent diarrhea and improve good intestinal health.
Treatment of necrotic enteritis
Activate pepsin and optimizes protein digestion
Improve secretion of digestive juices
TARGET SPECIES:
ADMINISTRATION :
For oral Administration via drinking water.
DOSAGE:
Via Drinking water:
250 ml per 1000 lit of drinking water.
WITHDRAWAL PERIOD: 0 days.
FOR ANIMAL USE ONLY
STORAGE:
Store in a dry and cool place, protected from light.
Do not store above 30℃.
Shake before use.
SHELF LIFE: 24 months
PRESENTATION: 1 lit and 5 lit.