Acidifier and growth promotor
New concept of acidifier and growth promotor
Unique and advanced blend of organic acids and butyric acid in form of glycerides
Synergic action of organic acids in inhibiting pathogenic bacteria
Powerful enteric antimicrobial action
Effective both at low and high pH levels (stomach-Intestines)
Stimulates gut health
Increases nutrient digestibility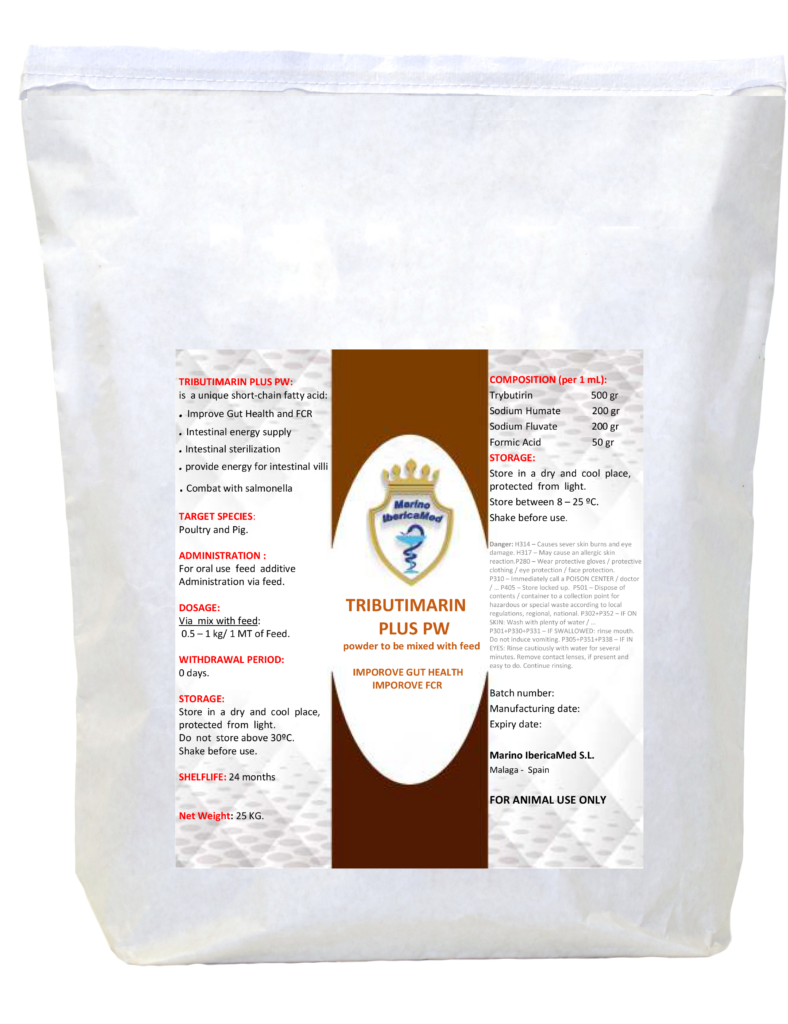 COMPOSITION:
Tributyrin
Capric / Caprylic Acid
Humic Acid
Fulvic Acid
Calcium Formate
Propionic Acid
INDICATION:
Improve and Stimulates Gut Health and FCR
Intestinal energy supply
Improves feed hygiene and Intestinal sterilization
provide energy for intestinal villi
Powerful enteric microbial action and Combat with salmonella
Increases digestibility of nutrients
Strong pH reduction
Effective at low and high pH levels
TARGET SPECIES:
ADMINISTRATION:
For oral Administration via feed.
DOSAGE:
To be mixed with feed:
Prevention: 500 gr per 1 MT of feed.
Treatment: 1 kg per 1 MT of feed.
WITHDRAWAL PERIOD: 0 days.
FOR ANIMAL USE ONLY
STORAGE:
Store in a dry and cool place, protected from light.
SHELF LIFE: 24 months
PRESENTATION: 5 & 10 & 25 kg bags