Oral Solution Supplementary Feed Additive
Can be used During all infectious diseases.
Decrease side effects of infectious diseases such as inflammation and fever.
Increase Immunity in infectious diseases and during vaccination
Prevent all stress and Reduces all symptoms derivatives of heat stress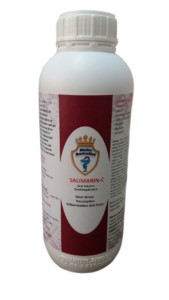 COMPOSITION :
Vitamin C
Salicin
Lavender Essential Oil
Lemon Essential Oil
Sorbitol
Betaine
Salimarin-C is useful in the following conditions:
 Inflammation and Fever

Heat Stress
Vaccination
After disease during treatment
In all stress situation
TARGET SPECIES:
ADMINISTRATION:
For oral Administration via drinking water.
DOSAGE:
Via Drinking water:
500 _ 1000 ml per 1000 lit of drinking water.
WITHDRAWAL PERIOD: 0 days.
FOR ANIMAL USE ONLY
STORAGE:
Store in a dry and cool place, protected from light.
Do not store above 30℃.
Shake before use.
SHELF LIFE: 24 months
PRESENTATION: 1 & 5  lit