Oral Solution Supplementary Feed Additive
Antiseptic and Antiviral
Antitussive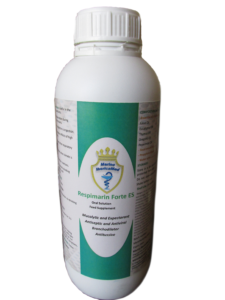 COMPOSITION :
– Essential oils:
Anise Oil
Eucalyptus Oil
Thyme Oil
Oregano Oil
Peppermint Oil
– Food emulsifier & excepients.

Respimarin Forte ES is useful in the following conditions:
Breathing alleviation during respiratory infections.
Mucolytic , Expectorant and Bronchodilator
Reducing respiratory congestion.
Reduce negative effects of high temperature In hot seasons.
Sneezing and other respiratory symptoms.
Post vaccination reactions.
AntiViral.
TARGET SPECIES:
ADMINISTRATION:
For oral Administration via drinking water.
DOSAGE:
Via Drinking water:
200 ml per 1000 lit of drinking water
Spray:
prepare a 2% solution mixing Respimarin Forte ES with luke-warm water.
Spray on air 2-4 times per day until relief of symptoms.
WITHDRAWAL PERIOD: 0 days.
FOR ANIMAL USE ONLY
STORAGE:
Store in a dry and cool place, protected from light.
Do not store above 30℃.
Shake before use.
SHELF LIFE: 24 months
PRESENTATION: 1 lit and 5 lit.