Oral Solution Supplementary Feed Additive
Growth promoter and improve gastro intestinal health
Prevention and Treatment of Coccidiosis caused by all species of Eimeria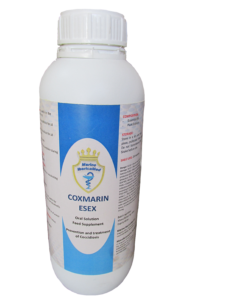 COMPOSITION :
Essential Oils
Plant Extracts
Organic Acid
Betaine
Excipient
Coxmarin Esex is useful in the following conditions:
Prevention and treatment of gastrointestinal problems.
Prevention ,control and treatment of Coccidiosis ( E,tenella , Maxmia, Necatrix , Acervulina,…)
Reduce negative effects of coccidiosis such as lesions in caecum
Improve FCR
TARGET SPECIES:
ADMINISTRATION :
For oral Administration via drinking water.
DOSAGE:
Via Drinking water:
500 – 1000 ml per 1000 lit of drinking water for 3 – 5 days.
WITHDRAWAL PERIOD: 0 days.
FOR ANIMAL USE ONLY
STORAGE:
Store in a dry and cool
place, protected from light.
Do not store above 30℃.
Shake before use.
SHELF LIFE: 24 months
PRESENTATION: 1 lit and 5 Lit.